Advantech CODESYS Development Add On
Advantech CODESYS Development Add On
Model: DF-VP-1044
Brand: Advantech
Advantech's CODESYS solutions comprise a full range of products, controllers, and fieldbus I/O modules. Four types of controllers are included; specifically, the ADAM entry-level controller, APAX modular controller, UNO embedded PC controller, and TPC panel PC controller. Advantech also offers several fieldbus and I/O products, such as remote and high-density I/O modules that support various real-time fieldbus protocols. Moreover, with the inclusion of iDoor technology, various fieldbus communication interfaces can be integrated into Advantech's controller systems.
Features
Achieve Real-Time SoftLogic Control for Machine Control Solutions

CODESYS Control Real Time Engine (RTE) & Visualization (Target & Web)
Supports IEC-61131-3 PLCopen languages (FBD, LD, IL, ST, and SFC)
SoftMotion and CNC Robotics function module for advance motion control

Real-Time Industry Ethernet Control Protocol

EtherCAT, ProfiNet, Ethernet/IP ready for real-time Industrial Ethernet Control
CANopen and ProfiBus supported via iDoor or AMAX-54xx expansion module
Modbus TCP Master/Slave & Modbus RTU Master

Easy Data Access & Self-Management

Upstream connectivity facilitates IT/OT integration (MQTT, OPC UA, and ODBC)
Controller hardware information Self-Diagnostic.

Advantech CODESYS Data Connect Add-on Value – ACDC

10 ~ 50 ms Cycle time for symbols (PLC Handler)
Under 100us Cycle time for shared memory (C/C++/C#)

System Requirements
General PC with Windows 8.1 / 10 / 11
Minimum 2.5 GHz Processor
8 GB RAM
12 GB available HD space
Advantech CODESYS Solution Infrastructure
Advantech's CODESYS solutions feature a comprehensive range of controllers, including entry-level (ADAM-5000 series), modular (APAX series), fanless embedded PC (UNO series), and control panel (TPC series) controllers. Advantech has the product knowledge and industry experience to produce reliable and trusted controllers that support critical automation applications.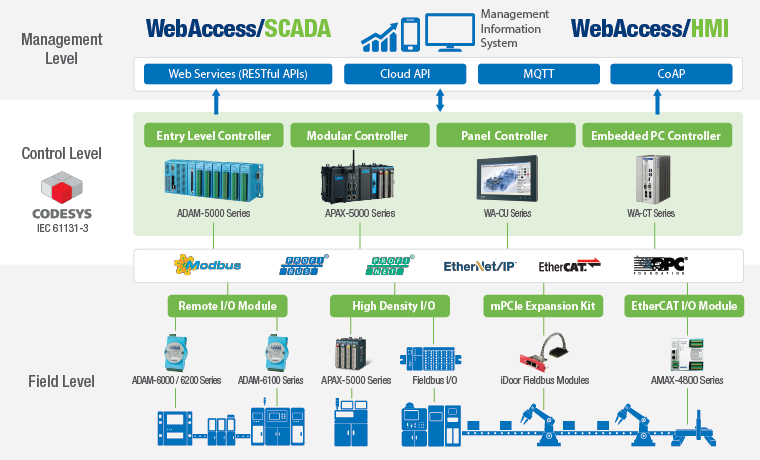 Advantech CODESYS Development Add On
close